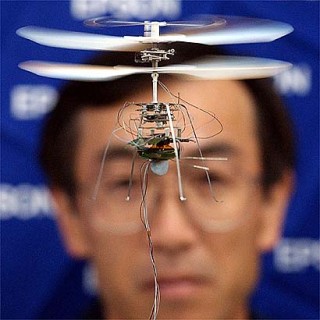 Seiko Epson Corporation has developed the FR Micro Flying Robot, the world's smallest (according to Epson's research) flying prototype microrobot.
The first version was released in November 2003, the second lighter and more advanced successor version with an image sensor unit and bluetooth control was released in August 2004.
The company hopes it'll be suitable for security, disaster rescue and space exploration. Well, maybe even for doing some degree project. A swarm of little robots flying in space? Why not.
»FR Micro Flying Robot
»FR Micro Flying Robot advanced version