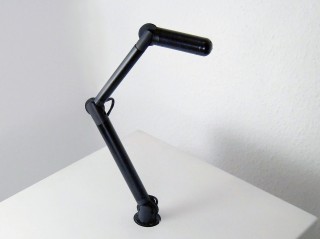 My colloborator Andre Stubbe and me took our robot, Outerspace, through a long process of enhancement. After an extensive reconstruction with 3D modelling software, the new hinges were made from Delrin with a state-of-the-art 5-achsis CNC machine.
From 1 May 2007, the new improved Outerspace will be part of the permanent exhibition at the Museum of the Future, part of the Ars Electronica Center, Linz, Austria.
You can interact with the robot in the RoboLab on the first floor. It is part of the theme field "With all Senses". The new location of the Ars Electronica Center in Graben 15 in the heart Linz town, Austria. The opening week starts on May 16, 2007.