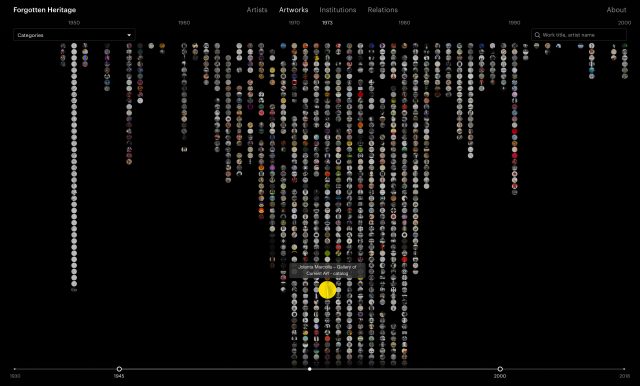 Forgotten Heritage, the interactive online application we were working on for the past months is now live.
Visitors can immerse themselves in the world of avant-garde artists from Poland, Estonia, Croatia, France and Belgium, who were active in the second half of the 20th century. The visual archive opens up a fascinating network of works, artists and places of action.
Using state of the art web technologies like React.js, d3.js and pixie.js, the application lets people interact with archival data in new ways and make hidden connections graspable.
Forgotten Heritage is based on The Visual Archive, which facilitates the display of digital collections and datasets.
In Collaboration with Marika Kuźmicz of Fundacja Arton and Kilian Krug.
Press release:
https://visualarchive.de/en/the-visual-archive-makes-hidden-collections-and-datasets-attractive/